Biomimetic designs for Phase Change Materials containment and heat discharge

IDEAS is researching Organic and Molten Salts as Phase Change Materials (PCM) to keep buildings warm in the winter and cool in the summer.
Typically, Photovoltaic (PV) panels convert 15-20% of the suns energy they receive into electricity. The remainder is lost as heat. This heat can also damage PV panels.
IDEAS builds on research that we have already carried out that shows that PCM has great potential to improve PV efficiency by acting as a heat sink. It also has the added benefit of being able to supply heat to buildings.
Storing heat using PCM enables us to conserve and discharge that heat most effectively – when it is needed by the building users.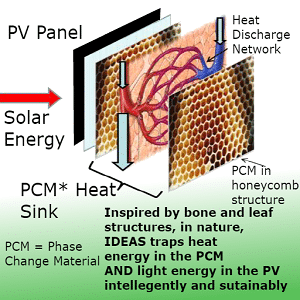 Biomimetics: using the designs of nature
IDEAS' designs for maximising the collection and beneficial discharge of solar energy makes use of what is called 'Biomimetic' principles – honeycomb, veins, bone architectures. These reconstructions of natural structures provide high-performance thermal regulation.
The solar heat which we will capture using the luminescent layers we are developing can also be used with a specially developed Heat Pump which achieves the highest possible share of renewable energy for the building.
What Are Phase Change Materials?
Phase Change Materials are substances which absorb or release large amounts of so-called "latent" heat when they go through a change in their physical state, i.e., from solid to liquid and vice versa.
There are PCMs that are used across a broad range of temperatures, from -30°C to more than 100°C. They typically store 10 times more heat by volume than other materials such as brick, masonry or stone, because of this they offer high-density energy storage within the temperature range many buildings experience. They can thus shift a building's cooling and heating needs to cheaper, off-peak hours.