Integrating solar PV with heat energy trapping coating into building facades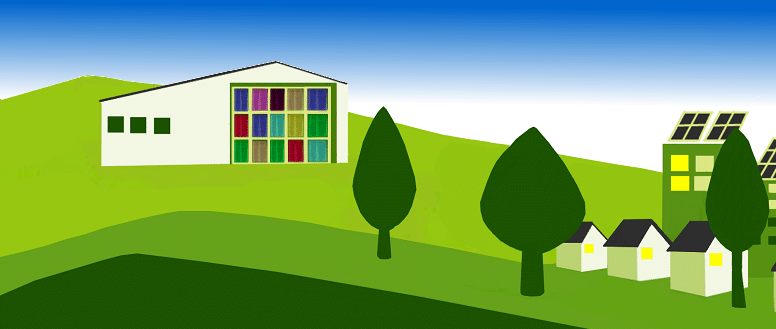 The IDEAS project is creating an innovative building-integrated renewable energy system. As a result of IDEAS, it will cost less to generate electricity, heat, and cooling in multi-family buildings (such as apartments and blocks of flats). It will also be of huge benefit to owners of public and commercial buildings, from libraries and schools to offices and shops) benefitting communities across a range of climatic conditions.  



IDEAS uses specially developed innovative technologies (see here for more detailed information) to collect the sun's energy and through an intelligent distribution system to use it hyper-efficiently exactly as it needed by the people in the building.  

One exciting new element of the IDEAS project is the integration of solar PV with the heat energy trapping coating into building facades – so not just the roof of the building is used to produce useable energy in the building, but the facade also.
Increasing energy efficiency in our buildings is central to meeting the challenge of climate change: nearly half (40%) of all the energy we use is consumed in our buildings. If we are to meet our EU targets to reduce greenhouse gas emissions by 2030, we have to improve the sustainability of our buildings.
What's involved across the different strands of the project:
 
New light collectors and geometric concentrators will maximize the amount of energy we can collect from the sun.  
Organic phase change materials (PCM) will provide heat when the building is cold and cool air when the building is too warm.  
A specially developed heat pump will make the best use of the energy collected to supply an underfloor heating and hot water system and to manage the thermal energy storage (necessary?)  
These energy components will be controlled by an intelligent and responsive data system. For residents of apartments, and public and commercial building managers, the operation of the system can be seen in real-time ensuring its smooth operation and maximum efficiency.
IDEAS will save money by increasing energy efficiency, enhance our health by making our buildings more comfortable, and will reduce greenhouse gas emissions  
More Detailed Discussion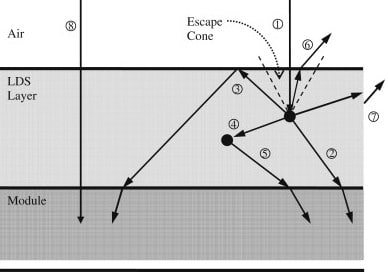 A thin film luminescent downshifting (LDS) layer will be fabricated to enhance electricity generation which is placed as a top layer (or aperture) on the overall system (see figures 5 a&b) . IDEAS goes beyond SOA by including plasmonic emission enhancement within the LDS layer as well as coupling to a secondary concentrator in a CPC design (as described in figure 5c). It builds on the coordinator's experience in luminescent concentrator application of plasmonic enhancement and in LDS layers . LDS layers will enable more emission within the bandgap of the cell and will reduce loss mechanisms, leading to increased solar radiation entering a compound parabolic concentrator (CPC) which can be concentrated onto the PV cells at the focus. Using a ray trace model, a CPC will be designed which will integrate different LDS layers as an aperture for different solar cell types. It will also investigate CPC truncation concepts, where the LDS is located at the aperture of an asymmetric CPC. IDEAS designs will collect diffuse and direct solar radiation therefore becoming a tuneable building component.